As we were flying into Kushiro, Hokkaido there were no skyscrapers only a lot of country side. We took a bus ride into the city centre which took about 40 minutes to an hour. We booked into our hotel the went exploring to see what we could find.
First off we found a great fresh fish market called "Washoichiba".
There we found heaps of fish freshly caught that day, cleaned and on display for sale in packages, in ice buckets and on ice, live crabs in tanks as well as ones that were tied up and ready for cooking, dried fish, shell fish, octopus, squid, even fish eggs, the smell of the sea was abundant. The idea was to try bits and pieces from all stalls and shops and you could eat it there surrounded by all the special catches of the day. You can't get any fresher than this!
It was amazingly cheap compared to buying the same items in the big smoke like Tokyo.
We tried the crab in several different styles with fish roe, squid and rice and of course sauces too. If fish is not your thing, there was also ramen available. Well worth a look.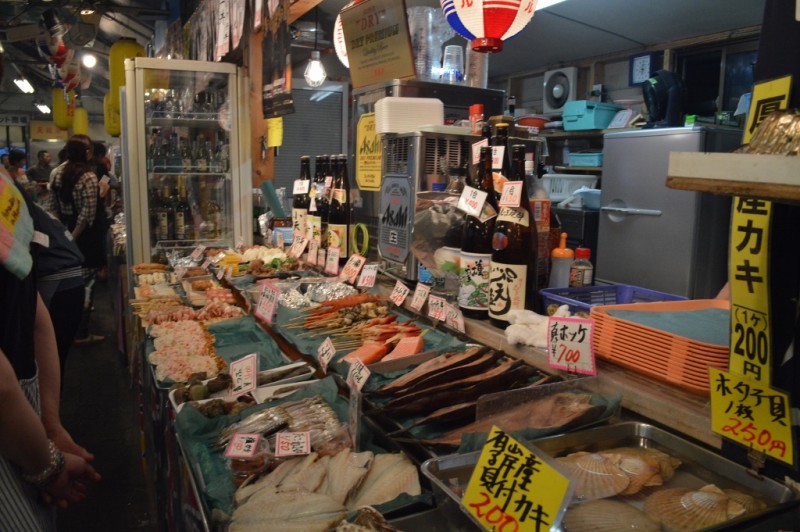 In the evening we went out again to explore this town a bit more.
It was a warm balmy night so we headed to the "Kushiro fisherman's wharf" waterfront and came across an outdoor event eatery called "Ganpeki robata". It's only open between 16th of May until the 31st of October. The place was bustling with patrons, all having a great time, the smell and smoke of delicious food being cooked on open grills was all around just like a great BBQ. The nice sight of all the fishing boats and trawlers bobbing in the water setting a wonderful scene.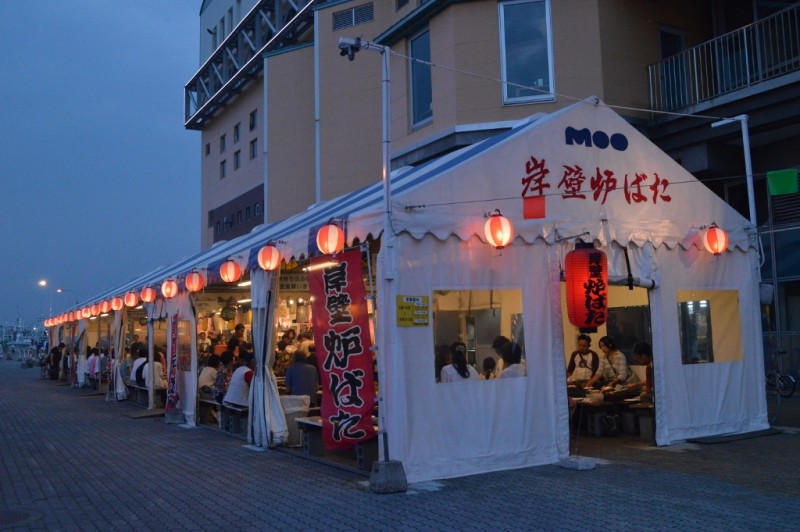 We placed our names on the list and waited for a short while until there was some seats available as the place was packed, the sign of a good restaurant.
Once inside we purchased tickets ( first ¥1,000 in tickets then you can buy tickets of lesser amounts) that you exchange for skewers of meat, fish and vegetables, not the mention the beer and sake.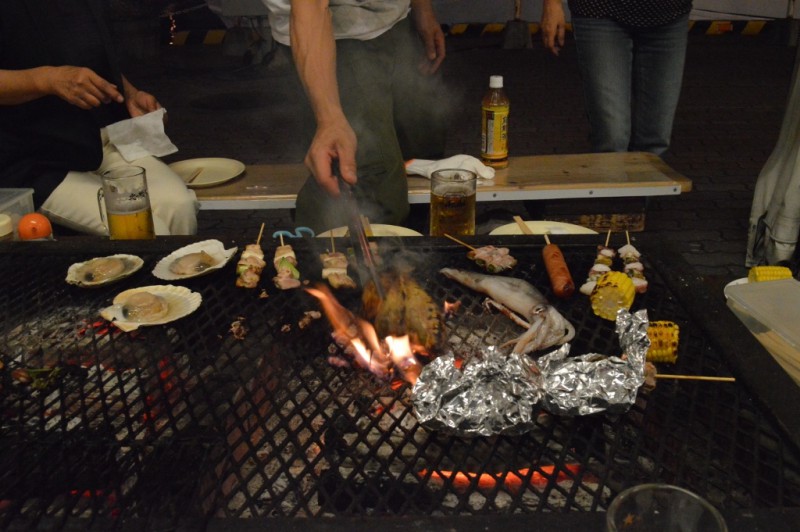 5-6 stalls all had different skewers and items to buy. We tried some beef, lamb, several different kinds of fish, oysters and other shell fish that were thrown onto the hot grills and you cooked it to your liking. Going back to buy several beers as you do to wash it all down, you could also buy tea and soft drinks.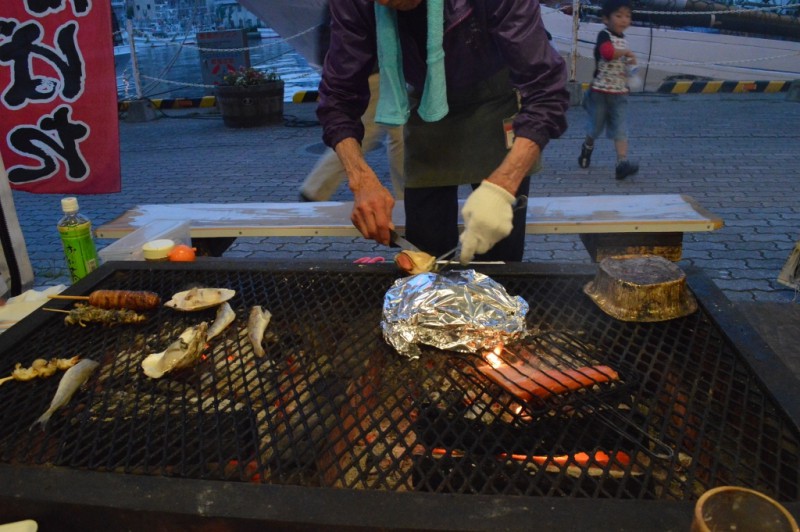 It was great to see all the different food being cooked by the people sitting beside you. A great place for a good feed and you can also meet interesting people from all walks of life to chat to and maybe even make some new friends as we did. We had so much fun were going back again tonight before we head off to explore some other areas of Hokkaido.
Do yourself a favour and head down to the fisherman's wharf for a great culinary experience if your in the area.
Writer – JD